7 Easy Steps: Prepping for New EDI Trading Partners
Posted on March 23, 2023
EDI provides tremendous business value by improving the speed and accuracy with which you can process transactions in compliance with Trade Partner requirements. Consequently, when you take on a new Trade Partner relationship, it's critical to understand the Trade Partner's requirements upfront to avoid chargebacks and help you speed through your business cycle.
We've compiled seven easy steps to help you prepare for adding new EDI Trade Partners.
#1  Request mapping guides, VAN, and Trading Partner profiles from the Partner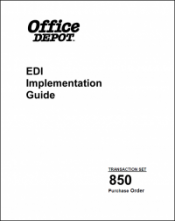 Mapping Guides – outline the format in which you should receive data from the Partner and how your outbound files should be structured. Documents such as the 850 (Purchase Order), 856 (Advanced Shipment Notification), and 810 (Invoice) are all included.
Trade Partner Profile – This is a document that the Trade Partner will have the Lanham user fill out with their Trade Partner IDs and other pertinent information. It typically also lists the Trade Partner's Trade Partner IDs and their preferred method of EDI Connection, such as an AS2 (direct) connection or going thru a VAN (Value Added Network)
Vendor Compliance Guide – provides vendors with information on shipping procedures, such as label placement.
Label Requirements – This guide outlines the necessary format of GS1-128 labels and any other labeling requirements specified by the Trade Partner.
#2  Make sure proper Business Central features are selected for required EDI docs

Go through the Lanham Registration process and select the applicable EDI features. We recommend that you work with a Lanham Reselling Partner for this step.
For on-prem extension implementations, also ensure proper licensing is in place for the selected EDI features.
#3 Get the EDI version and be sure docs are supported

Technology is progressing faster than ever. Be mindful of the version of Lanham EDI in use, as it is advantageous to use the latest version.
#4 Consider using the Lanham VAN
Establishing a connection with your Trade Partner requires careful consideration of their EDI connection, as outlined in the Trade Partner Profile. The Lanham VAN is one potential solution, requiring the creation of an interconnect between the Trade Partner's ID and the Customer Trade Partner ID. It's important to note that Trade Partners generally have both Test and Live TP IDs.
#5 Setup Business Central (map EDI documents according to the Trade Partner's mapping guides)
Set up the EDI COMM app to ensure a secured connection with BC. (EDI COMM sends and receives EDI files to the web client.)
Construct GS1-128 labels using the Lanham Label Formatter.
Create a Packing Rule and populate it with the newly formed label.
Update or create Trade Partner BC Customer/Ship-to records, and populate them with the above-created Packing Rule.
Create a Trade Partner page and map EDI Documents per the assigned Trade Partner's Mapping Guides, either via your BC Reseller, internally, through Lanham Services, or outsource the management of your EDI entirely to Lanham Services.
Finally, set up the necessary EDI Cross References for Customer, Item, Unit of Measure, and General.
And — for customers moving their current trade partner maps from NAV to BC — be sure to use the Lanham Upgrade Toolkit OR, in BC, use the "EDI Toolbox Trade Partner Import" to import the maps…and remember to test the documents before using!
#6 Test EDI Docs
This step is the trial run of EDI – the ultimate test to ensure the setup is effective. The Trade Partner will send simulated EDI transactions to import into Lanham EDI, and the translation of the data must be confirmed. Once the BC documents have been created and processed, the BC user must respond with outbound EDI files as if they were actual data. The Trade Partner will then review the information to ensure it meets their requirements outlined in the Mapping Guide. (You may need to repeat this process until the Trade Partner is content with the results.)
#7 Establish go-live date
Congratulations! It is time to coordinate with the Trade Partner to establish an official go-live date. Once the date is set, you can begin the launch process. Please be sure to update the Trade Partner's Trade Partner IDs accordingly for any changes between the TEST and the LIVE environment.
By utilizing EDI, you can start taking advantage of tremendous cost savings. You can reduce lead times, track transaction status in real-time, and simplify your overall business processes. Since exchanging EDI transactions is much faster than the laborious and time-consuming process of exchanging phone calls, emails, and printed paper, your employees are free to focus on other areas of your business.
You can find more information on Lanham EDI here. And if you'd like to schedule a demo, let us know!