Ready, Set, Summit!
Posted on March 22, 2017
3 Things to Know Before You go to the Lanham Supply Chain Summit
By Archana Chaudhary, Director of Supply Chain, Jaipur Living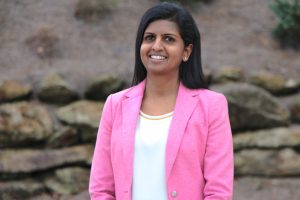 I attended the Lanham Supply Chain Summit last May because we'd recently started using Lanham's E-Ship, E-Receive, and ACE Warehousing solutions, and our Lanham reselling partner, ArcherPoint, invited us to join them at the event.
Jaipur imports home furnishing products from seven countries into two U.S. facilities, from which we distribute the items throughout Canada, the US, and Mexico. There are a lot of nuances to inventory management, and the Lanham Summit was an invaluable opportunity to flatten my learning curve, learn best practices, and hear directly from the Lanham development team.
If you're planning to attend this year, here are three things to keep in mind before you go:
#1: Go with an open mind.
I don't mean wearing love beads or flowers in your hair, but rather just be open to new concepts. When you're involved in warehousing or forecasting or shipping, you can sometimes get into a mindset that says "this is how things are done, and this is how I need to do it." However, if you go with an open mind, then you can really listen and may discover a new idea that works for you. There are different ways to do things and some of these ways you may never have thought of before. Stay open minded, so you can soak everything in, and then you can think about whether/how it applies to your situation.
#2: Send someone who is very close to your EDI, E-Ship, or Warehousing processes.
Be sure to send people from your team who are close to the specific areas the Lanham products target. You'll have the opportunity to ask very detailed questions of the speakers, so be sure whomever you send knows exactly where they need help because they'll be able to interact directly with the Lanham team to get answers.
#3: Try to go for all three days.
When Lanham bills this event as intensive education, they aren't kidding. The sessions were very in-depth. And when you combine that with so many opportunities to talk directly to product developers and network with peers, well, it's a challenge to cover it all in just one or two days.
A fourth thing to know, perhaps after, rather than before you go to the Summit, is that unlike other conferences where you come home with a big binder that then sits on a shelf the rest of the year, you'll find lots of opportunities to put your new-found knowledge to good use. And the insights provided on upcoming Lanham products, and how they fit with new technologies from Microsoft, will leave you well-positioned in terms of future planning for your organization's supply chain success.
* * *
Register now for the Lanham Supply Chain Summit! Agenda details can be found here.