Introducing the Fastest Barcoder in the Land Contest
Posted on March 24, 2017
by David Deardorff, Barcom, Inc.
"Slap some bacon on a biscuit and let's go!  We're burnin' daylight!"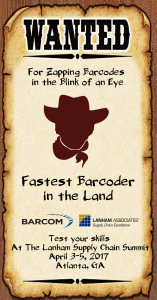 We're counting down the days to the Lanham Supply Chain Summit, and like Wil Andersen (played by John Wayne) in "The Cowboys" (1972), we are raring to go! Lanham Associates has planned three action-packed, fun, and informative days that will certainly keep you and your team engaged and enlightened.
The Lanham Summit is our favorite event of the year; we always look forward to meeting up with friends and colleagues as well as meeting with new folks who are seeking new, valuable ways to improve the efficiency of their operations.
Barcom will be highlighting a number of productivity solutions. These include industry-leading Honeywell and Zebra hardware such as barcode scanners (including wireless devices), barcode printers, mobile computers, forklift-mount terminals, long-range scanners, RF network equipment, and much more. Of course, all of our hardware solutions are E-Ship, E-Receive, and ACE Warehousing compatible — enhancing worker productivity, increasing process efficiency, and controlling operating costs.
Along with hardware demos and a chance to talk with Barcom about your latest customer challenges, we will be participating in the educational sessions both Tuesday and Wednesday (view the full agenda here). On Tuesday, I will be sharing integration insight on the hardware side for E-Ship and E-Receive applications, and on Wednesday, Jim Ledbetter, President of Barcom, will guide you through the do's and don'ts of hardware implementation for ACE Warehousing. We promise to provide valuable insight on the latest technologies to help you make more informed decisions.
This year, we also have a really fun event planned to give you a hands-on opportunity to experience the power of our barcode scanning devices, as well as to test your scanner gun skills. (Yes, you'll even get to wear a holster.) The Fastest Barcoder in the Land contest will run during the last two days of the event, and high-scoring participants will have their names in lights! Prizes will be awarded to our daily winners and runner-ups.
There's still time to register for the Lanham Supply Chain Summit, April 3-5 at the InterContinental Buckhead Hotel in Atlanta, GA! Register today.
# # #
David Deardorff is a barcode automation specialist and veteran in data collection applications in the warehouse at Barcom, Inc., a Lanham Preferred Hardware Partner.