A Handy Guide to E-Ship Billing Options
Posted on April 27, 2016
By Steve Branin, Lanham Services
E-Ship, built inside Microsoft® Dynamics™ NAV, enables you to reduce cost while increasing both efficiency and accuracy in shipping. All of your shipping data, whether the products are shipped via package carriers or LTL, is housed natively inside NAV for seamlessly simple access to the information you need.
By having E-Ship embedded in NAV, the user experiences unprecedented functionality and unlimited access to data from inside the business system, a far different experience than having to track information through the ERP system and then various package carriers' systems to understand product and shipping information.
Among its many features, E-Ship offers four different billing options –all designed to make users lives easier. But, just like when you go to the grocery store and see that your favorite toothpaste now comes in five different flavors, sometimes multiple options can challenge one's decision making process. So, here's a handy crib sheet.
Handy Guide to E-Ship Billing Options:
The four different billing options for packages shipped by E-Ship are controlled through the "Shipping Payment Type" field. The two main places you would choose these options are on the Customer Card and on the Sales Order both shown below.
Four Billing Options:
Prepaid
Third party
Freight Collect
Consignee
Customer Card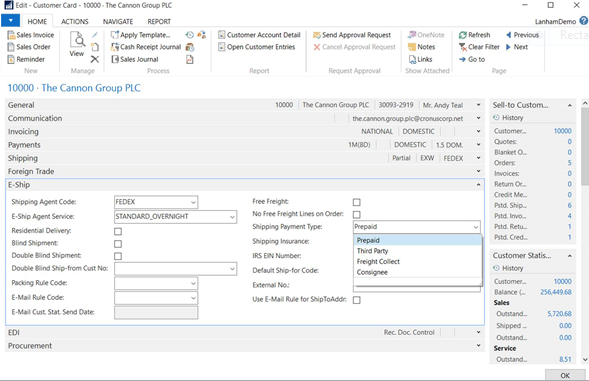 Sales Order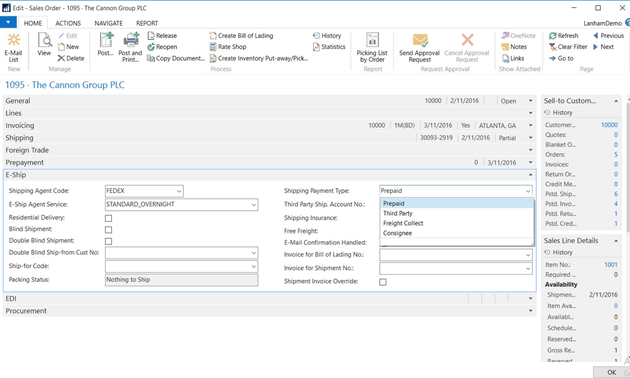 The Prepaid option indicates that the charges will be billed to the shipper's shipping account. This is typically used if the customer is being billed for the shipping as part of the sales order or if the customer is given free shipping.
The Third Party option is typically used in drop ship situations. For example, this method would be used if you are shipping product direct to a Costco customer, and you need to bill the shipping to Costco's shipping account.
Freight Collect is used if you need to bill the shipping to the receiver's shipping account. This would be the case if you are shipping to Costco and billing the shipping to Costco's account. (Both the Third Party and Freight Collect options require that you fill in the "Third Party Ship Account No. field.")
The final option is Consignee. This option does not require you to know the shipping account, but does require that the customer has made arrangements with the carrier to allow this type of billing. In this case the shipping will be billed to the customer's account.
********* ********
If you'd like to learn even more about E-Ship, be sure to join us at the Lanham Supply Chain Summit, April 3-5, 2017 in Atlanta GA. In addition to deep-dive sessions on E-Ship, we'll also be covering Lanham EDI and ACE Warehousing. See you at the Summit!