It's Time to "Hit the Trail" for NAVUG Summit 2017!
Posted on October 5, 2017
Yes, it's that time of year again! At Lanham we're getting ready to pack our saddlebags and head on up to Nashville for NAVUGSummit 2017. (Truth be told, traveling by horseback would be a refreshing change of pace from the warp speed rate of the technology changes we've all been witnessing this year!)
Whether you're looking for demand planning, EDI, shipping, receiving or warehousing solutions, or wanting to see how our products map to some of the newer Microsoft technology platforms – Lanham's got you covered!
As Summit's Premier NAV Sponsor, we will have ACE Warehousing, Demand Planning (AFP), Lanham EDI, and E-Ship experts on site at the show in Booth #759. They'll be able to show you how we've been working hard to provide our solutions across traditional NAV, private cloud, and D365, all backed by expert resources to optimize the solutions for our customers.
During our Partner Showcase sessions we'll be covering Lanham EDI, POS Data Analytics, and E-Ship:
– Lanham EDI: Enhancements, New Technology and POS Data Analytics
Wednesday, October 11, 2:45-3:45 pm – Ryman Studio PQR (PSS12)
– E-ship Updates: Speed and Accuracy – Keeping Your Ship Together
Thursday, October 12, 9:15am -10:15 am  – Ryman Ballroom A (PSS13)
Lanham experts will also be featured speakers in these key sessions:
Wednesday, October 11
– 1:30-2:30 pm; Ryman Studio MNO
SCM79 – Member Showcase: How to Get the Most from Your EDI Software
– 4:00 – 5:00 pm; Ryman Ballroom A
NEW86 – Warehouse Management in Dynamics NAV: Choices and Implications
Thursday, October 12
– 2:30-3:30 pm; Ryman Ballroom C
SCM80: Stump the Experts: Supply Chain Management
– 3:45 – 4:45 pm, Ryman Ballroom C
EXT77 – Putting Dynamics NAV Extensions to Work for You
Friday, October 13
– 8:30-9:30 am; Ryman Studio JK
SCM78: How You Can Reduce Shipping Costs
– 2:30-3:30 pm, Ryman Studio JK
SCM77 – Hey Distributors: Need to Manage Your Inventory More Effectively?
Are you the Fastest Barcoder in the Land? Find out at NAVUG!
Our national hardware supplier, Barcom Inc., will also be joining us in the booth this year. We-ll be collaborating with them to give NAV users the opportunity to try their hand at the "Fastest Barcoder in the Land" contest during expo hours. Get ready to zap those barcodes! Prizes will be awarded to our daily winners and runner-ups.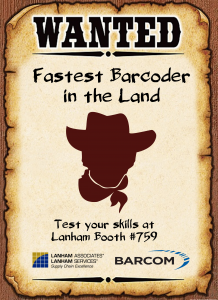 See you in Nashville!