5 Questions to Consider When Selecting an EDI VAN
Posted on January 14, 2021
By Charlotte Kinney, Product Evangelist, Lanham Associates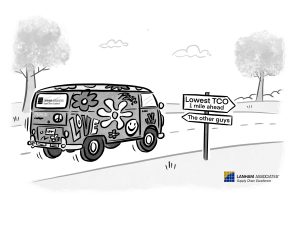 When implementing an EDI system, a major consideration is choosing the communication method you wish to use to send and receive EDI documents. The two main options are direct connections (EDI File Transfer protocols, such as AS2, FTPs, or similar) which offer a one-to-one connection, or a Value Added Network (VAN), a private, secure B2B network offering one-to-many connections. Think of a VAN as a post office, delivering your EDI files electronically to and from various trading partners' "mailboxes."
At Lanham, we believe it is important to explore the best, least-costly methods to communicate with your trading partners and to understand all of your options relative to your TCO (Total Cost of Ownership).
There are times when a direct-connection represents the lowest-cost way of communicating with your trade partner. In these cases, we will recommend that you opt for the one-time fees associated with implementing these types of direct communications. This way you won't have to absorb monthly VAN transaction fees, that scale with the number and type of EDI transactions, for ongoing communications with your trading partner.
While many of our customers do "go direct" with their trading partners, eliminating expensive VAN fees, there are occasions where you may need a VAN. For example:
If your trade partner uses a VAN, then you must use a VAN. It doesn't have to be the same VAN as your trade partner, but you must use a VAN to communicate.
If it makes more sense to have a one-to-many relationship at the VAN. In other words, the cost of a direct connection may not be warranted if your EDI volume is so low that having one mailbox at the VAN with multiple trade partner relationships established makes more sense based on cost.
Before you make any EDI VAN decisions, here are some questions to help guide your selection process:
1. Is your Trade Partner saying you must be on the same VAN?
If so, stop. Turn around. Leave.  You're not required to be on the same VAN as your partner.
If you are on VAN A and your partner is on VAN B, an "interconnect" can be established at both VANs so that the two VANs can communicate with one another. Typically, there is an  'interconnect' fee – but it is a lot less expensive than having a contract with a whole separate VAN.
2. Does the VAN charge for translation services?
The real question here is, do you need translation services? If you're already using your ERP or reputable 3rd party EDI software (such as Lanham EDI) to provide EDI translation, then there's no need to pay a VAN to do it. Don't get sucked into paying twice for translation.
3. Are you going to get locked into contracts that offer no flexibility?
Before you sign a contract with an EDI VAN, be triple sure you understand the parameters. How long is it for? Does it auto-renew? What is required to terminate the service? We've come across cases where people were trying to make some changes to their contract, but unfortunately had a very small window for cancellation, and the contract auto-renewed before they could make a change — and they were stuck with that VAN for another year.
4. Have you checked for additional EDI VAN fees?
Be sure to find out if there are fees for:
Setting up a new mailbox at the VAN
Setting up a trade partner — even if they're on the same VAN
Dropping a trade partner
Failing to meet trade partner minimum requirements
Exceeding set transaction limits – most of the time the more transactions you process, the lower the per transaction fee, but many VANs charge an extra fee per transaction if you exceed your contracted number of transactions
Interconnect fee, either per trade partner, per EDI document, or per kilo character handled on the VAN
 5. And, if you're contemplating moving to a new VAN…
If your company is already on a VAN, and you're contemplating moving to a new VAN… You'll need to consider that your existing VAN has your current trade partner ID and Qualifier, which means you can:
Keep existing trade partners at the old VAN and only set up new trade partner relationships at the new VAN, using a new trade partner ID/Qualifier for your company on the new VAN
Create a new trade partner ID/Qualifier at new VAN and request existing trade partners update to your new trade partner Qualifier/ID and VAN
Transfer existing trade partner ID/Qualifier and trade partner relationships from the old VAN to the new VAN which typically requires a lot of coordination and a 'release' letter on company letterhead requesting the release of the trade partner ID/Qualifier from the old VAN.
*********
If you'd like to explore the Lanham VAN and how we can help you achieve the lowest TCO, give us a call 678-379-4200 or email us at LAInfo@Lanhamassoc.com. We look forward to helping you navigate.
To learn more about Lanham EDI— the most widely used EDI solution in Microsoft Dynamics 365 Business Central—contact us for a demo.
# # #