Microsoft to Speak on the Future of Dynamics NAV at the Lanham Supply Chain Summit
Posted on March 20, 2017
While we all know that the only constant is change, the pace of change today can make even the savviest among us a bit dizzy at times. Whether it's technological, social, or climatic change, we're all living in what author Thomas Friedman refers to as the "Age of Accelerations."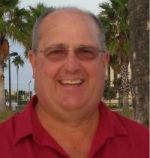 The good news is that at this year's Lanham Supply Chain Summit we'll be taking a collective deep breath as we bring everyone up to speed on Lanham's new solutions, product enhancements, and roadmaps for the future. And we're especially looking forward to having Microsoft Partner Technology Strategist, Tom Taylor, as a special guest speaker. He'll be discussing "The Future of NAV" on the afternoon of Tuesday, April 4.
We recently had an opportunity to sit down with Tom Taylor for a Q&A sneak peek at what's ahead for Microsoft® DynamicsTM NAV.
Q. Where does Dynamics NAV fit in Microsoft's plans?
From a corporate perspective, Microsoft is pursuing a digital transformation initiative. The objective is to make it easier for businesses to embrace new technologies so they can outpace the competition and create value for customers.
The digital world is advancing at amazing speeds, and it is all connected to the cloud. And this is where Dynamics NAV fits in. With over 110,000 customers and millions of active users worldwide, Dynamics NAV plays a key role in how Microsoft is helping small and midsized businesses embrace digital transformation. With Dynamics NAV, customers have the choice of deploying on premises or in the cloud on Microsoft Azure. And if a customer wants to move to a full multitenant SaaS service, they'll find their experience using Dynamics NAV carries over almost seamlessly to Microsoft Dynamics 365 for Financials.
Q. What can users look forward to in the near-term from Dynamics NAV?
Another key piece of work that will inform Dynamics NAV's future is the current work going on around new development tools. We've had the C/Side environment for development for years, and it's not going away. But recognizing that we have a younger generation stepping up to the plate, we're working on a new development tool in the web client that'll allow you to modify the screens through the web, which you can't do today.
This new development tool will use Visual Studio code and will allow people to develop in it and then create extensions that can be customized for an individual customer, or extensions they can then put up on AppSource.
This new development tool is also part of our AND strategy. We're not going to move away from the current development environment in Dynamics NAV. Instead we'll have the current tools and the new tools.
Q. Why is it so important to stay current on enhancements?
Everybody has a different perspective on technology and how they use it in business. But the bottom line is that innovation is critical to helping our customers keep up with the new demands on their businesses.
Dynamics NAV has a proud history of ever-increasing technological capabilities. It has done a fabulous job of consistently improving itself, by constantly adding elements to the base application. (Check out this features comparison tool chronicling the ever-increasing capabilities.) And, since Lanham's solutions are embedded in the product, all of these Microsoft innovations are instantly available to Lanham's customers.
So, while Microsoft and key ISVs like Lanham are constantly innovating, it's critical that businesses keep up with new technologies as well. Otherwise, you could get left behind.
On the plus side, staying current on enhancements is becoming less of a chore. Starting in Dynamics NAV 2016 we're making it easier to be able to upgrade with the addition of Dynamics NAV extensions. We're setting code on top of the Microsoft code base rather than embedding it. Extensions are opening up a lot of functionality in the product. Lanham has been a pioneer in this area, publishing one of the first extensions for Dynamics NAV in the Fall of 2015. We'll have a lot more to talk about on the extension front at the Lanham Supply Chain Summit.
In summary, to paraphrase Forrest Gump "Change happens!" And it's not just technology. Business needs change as well. Given today's current velocity of change, it's more important than ever to keep up and stay competitive. The Lanham Supply Chain Summit is a great educational opportunity for customers and their reselling partners to do just that. See you at the Summit!
# # #
Register now to join Tom Taylor and Lanham at the Lanham Supply Chain Summit, April 3-5, in Atlanta. Attendees are welcome to send us in advance any questions they'd like Tom Taylor of Microsoft to answer during his presentation. Please forward your questions to us at education@lanhamassoc.com.