How Many Mountains Have You Climbed Lately?
Posted on September 2, 2016
By Mary Lanham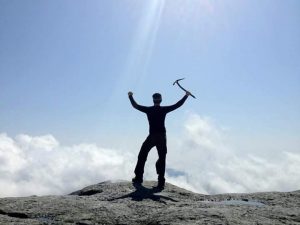 Lanham has always been focused on achieving new heights in productivity, and has been promoting its relatively new Lanham Supply Chain Summit with the aid of mountain summit images. So it's no wonder this charitable adventure caught our attention. We decided to share it in case you can help!
Matt Muir (pictured above) has a goal of climbing to the highest point in every state. He has climbed 42 of these over the past four years, and as he embarks on #s 43-45 he will be "climbing for a cause."
Matt, whose mother is on the Lanham Team, will be climbing Borah Peak 12,667′ (Idaho), Kings Peak 13,527′ (Utah), and Wheeler Peak 13,159′ (New Mexico) this month. As part of this expedition, he's arranged to raise donations to support Care International's #SHEis campaign, empowering girls and women in Afghanistan.
If you want to sponsor Matt by making a pledge, all proceeds will go to Care International's #SHEis campaign. AND all donations to Care will be matched at 100% by Matt's employer, a Washington DC law firm. Your donations are tax deductible.
Your pledge will only be redeemed if Matt meets his goal, i.e. if Matt summits two of the three peaks, only 2/3rds of your pledge will be collected. The deadline to participate is Sept 13. To make a pledge please email your pledge amount and contact details to MountainPledge@gmail.com. (The climbs will be completed by mid-September, but payment won't be collected until October 1.)
It's always refreshing when people find ways to give back. And this is a rather creative way – turning a vacation into a fundraising adventure. We hope you'll consider supporting Matt in this endeavor.