Four Levels of Warehousing Management Systems – Which One are You?
Posted on November 10, 2015
By Dale Lanham, CEO, Lanham Associates
Is your company looking to get started with or expand its existing Warehouse Management (WMS) capabilities? Like most things in life, when it comes to WMS it's usually best to walk before you run. Be sure to stop and think about what functionality you really need (vs. want), and have a solid grasp of the exact problem you're trying to solve. We usually advise customers to give some thought to where their company falls within the four levels of warehousing outlined below. If you're just getting started, consider starting small and building on these levels in a sequential manner.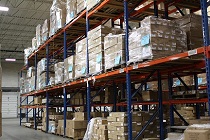 Level 1 – Four-wall Inventory Control- In this level, companies simply track what inventory goes in and what inventory goes out with the use of tethered or wireless wedge scanners. By scanning receipts and shipments in this way businesses can improve accuracy, ensuring that customers get the right product. This type of warehousing system can answer questions like, "Is this the right item? Does it have a barcode? If not, should I create one? Is it the right Unit of Measure (UOM)?" This type of implementation enables companies to record shipping details in a consistent manner in the business system, rather than relying on manual systems and depending on human memory for all the details.
Level 2 – Fixed Bin Inventory Control- In addition to scanning items when they are received and shipped, in this level every item is pre-assigned to a fixed bin or bins. This is valuable when doing directed picks, or physical inventory. For example if Item A goes to Bin 1, you will always know where to put it, and when doing a directed pick you'll know where the item is. This also expedites physical inventory since you'll have easy access to information on the quantities of items in each bin.
Level 3 – Directed Pick & Put-Away with Floating Bin and Forward Pick – Provides additional software-guided instructions that greatly improve efficiency and accuracy. For example, with the Floating Bin feature, when it comes to the Put-Away process the computer will choose the right bin in the right zone that is empty. It will direct warehouse personnel to fill bins that already have product with like products. Or if there's no pre-existing bin for a product it will direct warehouse personnel to start filling a new bin.
This level also facilitates wave picks in which items will be picked in aggregate and brought to a shipping area where the system will then create a second pick list for each sales order to be picked from the aggregated items. Dynamic movements that involve moving items from one bin to another are also included in this level of WMS.
Level 4 – Tracking Individual Items Anywhere in the Warehouse- In addition to all the features in the first three levels, WMS in this category can track individual items by serial number or lot number. This level of specificity is critical for certain industries such as tracking food shipments (in case of recalls) or paint (in order to be able to match paint colors in future shipments). WMS in this category can also accommodate license plating, which involves assigning license plate numbers to collections of items. This enables companies to move products in the warehouse with fewer scans since they just need to scan the license plate number rather than every individual number.
Distributors today can reap great efficiencies by using mobile technologies in the warehouse to gain visibility into real time inventory. If your firm is considering implementing or enhancing its WMS be sure you are focused on what you really need, and know that you can start small and build on the system in a sequential manner.
For more information on Lanham's ACE Warehousing solution, click here.