See You (In-Person) In Orlando at Directions NA!
Posted on March 22, 2022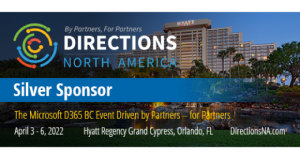 As a Silver Sponsor of the Directions NA conference, April 3-6, we're looking forward to seeing everyone and networking with our reselling partners – in person at last!
While the past couple of years has taught us that we cannot control everything in the supply chain, they've also shown us that there are still many areas where customers can make improvements.  And that's where Lanham's comprehensive supply chain extensions can help.
Learn more at our ISV Session:
Start Anywhere & Grow: Lanham Supply Chain Extensions 
April 4th, 4:30 – 5:00 pm / The Palm Room
We will showcase how our solutions are designed to work together so your customers can start anywhere, and grow into additional solutions as their business grows. We'll cover:
Lanham Supply Chain Solutions Overview
Lanham's Data Upgrade Tool – designed to make existing Lanham customers' upgrades easier
How to modify Lanham extensions
Be sure to stop by the Lanham booth to learn more about our demand planning, EDI, shipping, receiving and warehousing solutions, as well as how you can make use of Lanham Services' offerings (implementations, upgrades, consulting, EDI Managed Services, end customer support/training & business process design – as needed).
Let us help you show your prospects and customers how Business Central Apps can assist them in optimizing the supply chain processes that they do control.
See you in Orlando!