Countdown to Community Summit NA!!!
Posted on September 28, 2022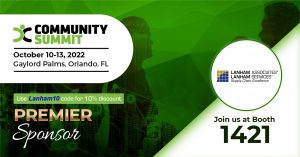 We are excited to be a Premier Sponsor of Community Summit NA, and are looking forward to seeing everyone again – IN PERSON!
It's sure been a wild ride over the last couple of years or so. From inventory scarcity to overload, today's distributors and manufacturers are reeling from "supply chain whiplash."  While it may all seem out of control, the good news is there are some aspects that you can control, and that's where Lanham's supply chain solutions come into play.
Stop by our Booth (#1421)
Whether you're looking for demand planning, EDI, shipping, receiving, on-the-water inventory tracking or warehousing solutions, be sure to stop by our booth at Summit to see how our solutions can help  optimize your supply chain.
And if you're not sure where to start, don't worry. Our solutions are all designed to work together so you can start with your most pressing need, and add more apps as your business needs grow.
In addition to showcasing new product enhancements across our solution set, we'll be highlighting how you can:
Easily prioritize shipments and drive productivity (even without a WMS) with Outbound Warehouse Request
Synchronize perfectly with your 3PL using the Lanham EDI 3PL Document Handling Feature
Drive productivity (with or without WMS) with our new mobile warehouse device user interface for Android and iOS devices
Take advantage of our Lanham VAN show special.
Don't miss our Solution Showcase & Educational Sessions
Since chaos is such a strong undercurrent these days, we've got 2 sessions focused on supply chain chaos:
Surviving and Thriving in Supply Chain Chaos (Monday, Oct 10, 2-2:45 pm ET)
Join us to explore what you can do to best harness your supply chain today. We'll highlight current issues and provide some guidance to help you:
Understand external factors affecting the supply chain
Prepare for future supply chain crises
Make some solid steps towards optimizing your inventory
Partner Solution Showcase Session: Thriving in Spite of Supply Chain chaos   (Monday, Oct 10, 3-4pm ET)
In this session we'll take a look at how the Lanham supply chain solutions can provide critical visibility and support today. Join us for:
An update on new enhancements across all of our products
Info on Lanham upgrade offers
Demos of our new mobile device UI
A look at Lanham Services' offerings such as start-up, consulting, upgrades, managed EDI services, plus end user support and training
Barcode Scanning Contest – Back by popular demand!
Along with Barcom, Inc., our national hardware supplier, we'll be offering you a chance to try your barcode scanning skills in our booth. This year's theme: Vaporize the Virus! See if you can make Covid vanish into thin air. (Daily prizes for winners.)
Get a 10% Discount!
If you haven't yet registered for the show, feel free to use Lanham's code (Lanham10) to receive a 10% discount for your 2022 Community Summit registration.
See you in Orlando!