4 Tips for Making Migration from Windows® Mobile to Android™ Easier in your Warehouse
Posted on August 15, 2019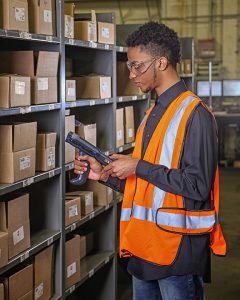 If you're considering a switch from Windows Handheld Operating Systems (OS) to Android in your warehouse, chances are you've already learned about the changes that are taking place with Microsoft.  If you haven't, here's the scoop: Microsoft will be ending extended support for all remaining versions of Windows Embedded Handheld in 2020 and Embedded Compact by the end of 2021.  Hence there's an ongoing global shift from Windows to Android for enterprise mobile devices.
While the ACE Warehousing solution doesn't currently require any immediate changes in terms of handheld OS, it is important to be aware of where handheld technology is headed. If you are considering making the transition from Windows to Android, it should be managed carefully to minimize disruption for your users and IT department. We highly recommend you meet with a solution provider who is familiar with the migration process. In the case of Lanham's ACE Warehousing customers, our warehouse equipment partner, Barcom, would be glad to talk with you. To get you started in the right direction, here are four tips to make the process a little easier:
1. Know your Terminal Emulation Application options
Terminal Emulation (TE) enables handheld computer devices to interact realtime with your NAV or Business Central system and Lanham's ACE Warehousing. From the user standpoint, the TE applications look and feel the same way, which is a definite pro for Android migration. As far as emulators go there are several options that are rebranded versions of applications that worked for Windows Mobile.
Ivanti Velocity TE (formerly Wavelink): is the easiest to configure and push out to larger deployments. It's also device agnostic.
Enterprise TE (formerly ITE): is being phased out by Honeywell. It is a Honeywell branded product and only works on their devices.
StayLinked TE: has been around for a while and has been used for Windows Mobile deployments. They now have an Android client. They require the installation of a StayLinked server on the same network as your mobile devices. The Pro here is it keeps your devices' sessions running if there are network issues. The Con: it cannot run unless you have their server on your network and running.
Honeywell Smart TE (Honeywell branded version of StayLinked TE): This is what Honeywell is moving towards instead of Enterprise TE. It has the same pros/cons as StayLinked TE
2. Consider Windows/Android Hybrid Option
Migrating to Android can be difficult and time-consuming because all the apps need to be re-written.  A more 'migration-friendly' option is to purchase new devices that have both OS's onboard, so while you're re-writing apps and migrating at your own pace, you can still use Windows.  Once you're fully migrated you can operate those new devices in Android mode only. It is also important to know that with ACE Warehousing, some users can use existing devices with the Windows OS, while new devices with Android or both Android and Windows OS can be added.
One point to be aware of with a "mixed scenario" is that unfortunately your IT team will have to manage both devices at the same time, and behind the TE, the OS is very different. So managing both OS long-term will eat into your IT staff time more than just having a single device/OS.
 3. Be Sure to Test and Train
After you've got your requirements in place, and have determined how your fleet of devices will be managed, be sure to build testing time into the overall plan. This will keep you on track and allow time to ensure that things will go smoothly when you go live. This step should include testing devices and the network– in addition to your apps.
Training is also important because it not only helps you test the system for bugs and workflow issues; it allows users to try things out and increase their comfort level with new devices.  The good news is that Android offers a friendly user interface, which makes training easier for all levels.
4. Don't Worry about Updating/Reprogramming ACE Warehousing for Android
If your existing business apps and databases are not currently compatible with Android, then you will need to update (aka re-write) those apps. However, ACE Warehousing customers can relax –  the ACE Warehousing software is ready to go. No need for reprogramming. In fact, several Lanham customers are already using Android devices in their warehouses.
Interested in learning more about a smooth migration?
Contact us today for assistance, or reach out to our national hardware supplier, Barcom Inc. They're happy to talk with you about your plan or help you get a plan started.
You can also learn more on this topic at the Lanham Supply Chain Intensive, a special in-depth, free class for Lanham customers, taking place on October 15 (right before BCUG/NAVUG) in Kissimmee, FL (Orlando).
 * This post was developed for Lanham Associates by Barcom, Inc.